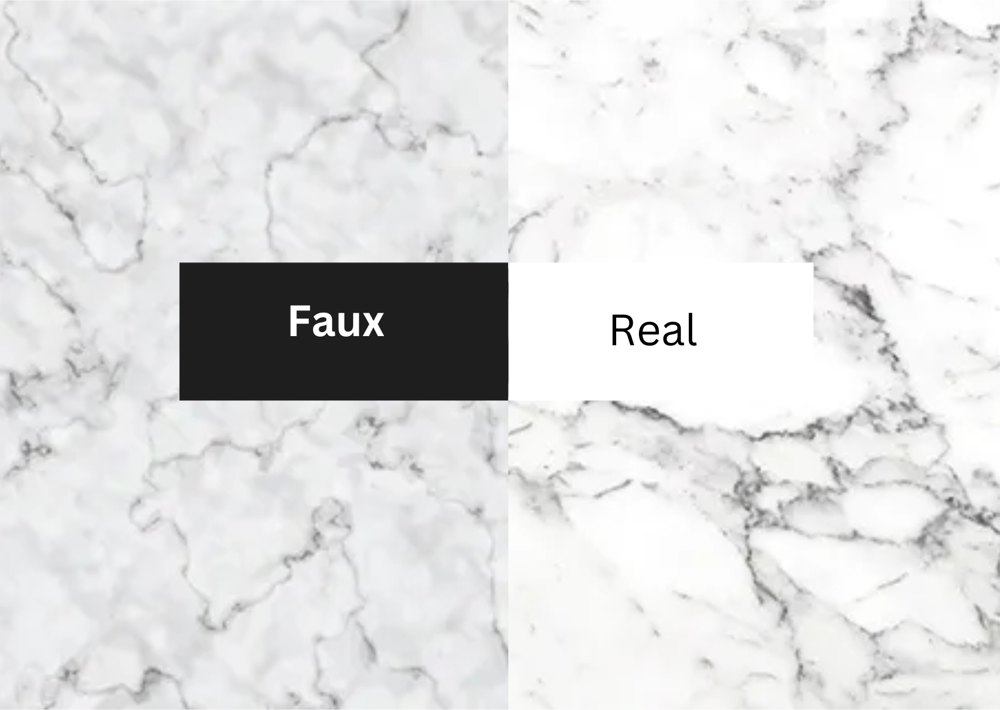 Marble is a popular choice for countertops due to its classic, timeless beauty. But when it comes to marble countertops, there are two types in the market: natural and faux. 
Natural or real marble countertops are made from natural marble stone fabricated from quarries worldwide, making them more unique and beautiful but more expensive than faux marble countertops. 
On the other hand, faux stone is human-made and came into the market during the 80s. Faux marbles combine marble debris, stone powder, plastic cement, sand, a few other items, and acrylic glue in a predetermined proportion. Faux marble countertops are made from stone particles, resin, and other combined materials in faux slabs, looking and feeling like natural marble. 
While they are typically less expensive than natural marble countertops, they may last less long and can be more prone to staining or cracking.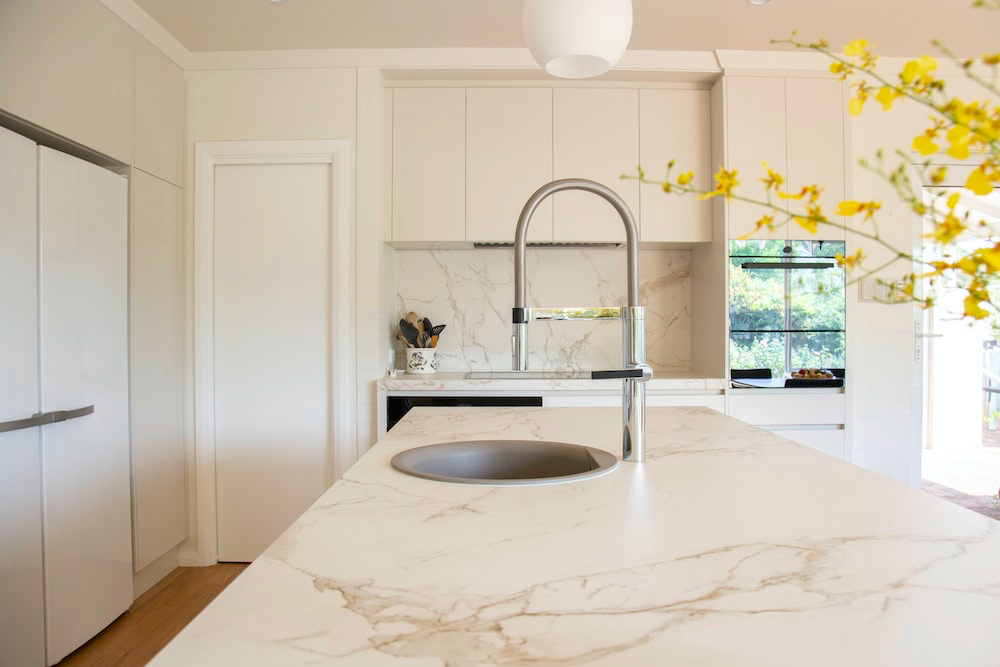 Advantages & Disadvantages of Faux and Real Marble Countertops
Figuring out the difference between faux and real marble countertops is important for making an informed decision that takes into account your budget, aesthetic preferences, durability, and maintenance requirements. There are a few key differences when comparing faux and natural marble countertops.
Unique texture: Each natural marble quarried from the earth has a distinct texture and color. It is difficult to find two identical marble veined texture that is impossible to replicate with faux marble. 
Color: While real and faux marble comes in various colors, natural marble is more likely to feature subtle variations in shade and tone due to its natural formation. Faux marble countertops have more color options.
Weight: Real marble tends to be heavier than faux marble, making it more challenging to install. 
Heat sensitivity: Real marble is more temperature sensitive than faux marble. Because natural marble is carved from the earth, it is subjected to extreme heat and pressure, making it more heat resistant. Artificial marble is an amalgamation of elements glued together; it is fragile (it can burn or melt) when exposed to high temperatures.
Cost: Natural marble is quite expensive because it is a high-end natural stone that requires much effort to cut, shape, and quarry. Faux marble slabs can be created with fewer ingredients and molded, making them less expensive.
Installation and construction: A skilled workforce is required to install a natural marble stone. As it is heavy, installation requires much power. Because artificial marble is less fragile, it is easier to install. Marble cutting and adjusting can also be done on the spot. 
Maintenance: Real marble is a porous material and can stain or scratch more easily than faux marble. It requires regular sealing and maintenance to protect it from damage. Faux marble is more durable and less prone to staining or cracking, making it easier to maintain over time. 
Real marble countertops offer a timeless look that adds sophistication to any home. They are unique in texture and color, making them especially desirable for homeowners looking for a classic aesthetic. For those with the budget to invest in real marble countertops, we recommend Morningstar Stone's natural marble stone. 
It is fabricated from quarries worldwide, giving it a unique veined texture and subtle color variations. The Morningstar stone countertops are made from stunning natural stones. 
Morningstar Stone's selection of high-quality natural marble with mater-hand fabrication gives countertops undefinably exquisitely and value.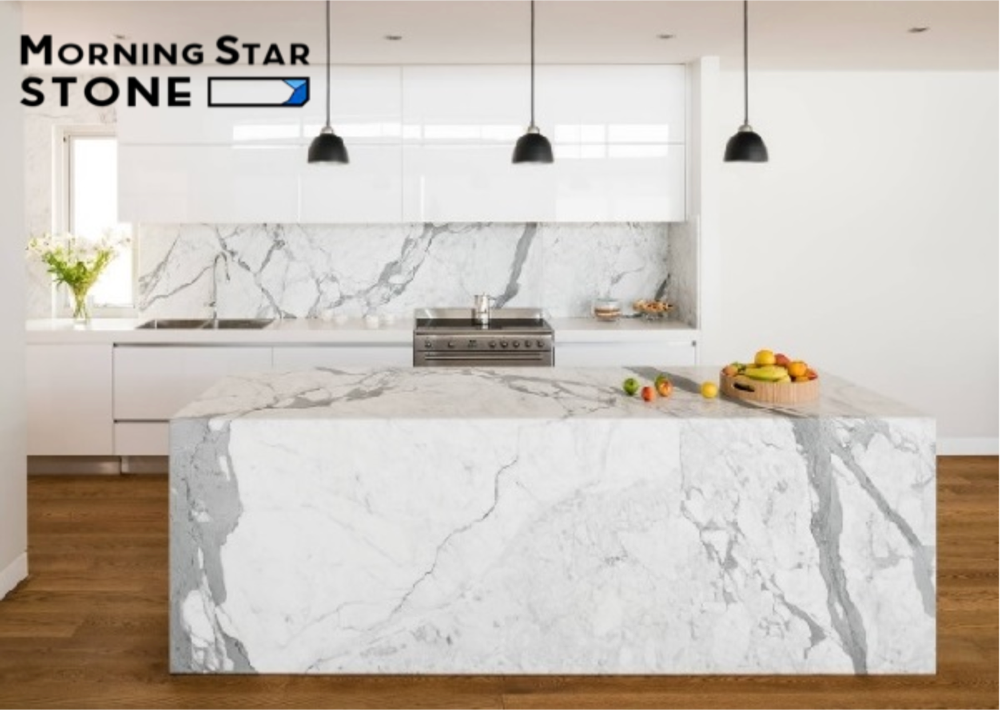 About Morningstar Stone
Morningstar Stone is a premier provider of natural stone for residential, commercial, and industrial applications. We specialize in delivering the highest quality materials at competitive prices. Our knowledgeable staff is experienced in all aspects of natural stone fabrication and installation. We take pride in providing superior quality and craftsmanship to each project.
Whether looking for beautiful countertops, stunning fireplaces, or elegant flooring, Morningstar Stone has the perfect natural stone for your project. We are committed to finding the best marble artwork for your budget and design needs. Morningstar Stone provides everything you need for a completely natural stone experience, from selecting and cutting the stone to delivering and installing it in your home or business.
Whether looking for traditional or modern styles, Morningstar Stone can help you create the perfect look for your home.
---
Post time: Jun-01-2023